Transitioning to PCI-DSS Version 4.0:
A Comprehensive Guide
Introduction
With the ever-evolving landscape of cyber threats and the increasing intricacy of payment ecosystems, the Payment Card Industry Data Security Standard (PCI-DSS) has undergone significant revisions. The new PCI-DSS Version 4.0 is designed to address these changes, ensuring more adaptability and security. Transitioning to this updated version is crucial for all stakeholders in the payment card industry. This guide aims to provide insights and strategies for a smooth transition.
Understanding the Changes
Before diving into the transition, understanding the significant changes between the versions is paramount.
Customized Implementation: Unlike the one-size-fits-all approach, PCI-DSS 4.0 focuses on customized implementations based on an organization's unique environment and risk assessment.
Greater Flexibility: The new version emphasizes a security-first approach rather than mere compliance, offering businesses more flexibility in achieving and demonstrating their security protocols.
Enhanced Authentication Protocols: Enhanced security measures for card-not-present transactions and stronger multi-factor authentication protocols have been introduced.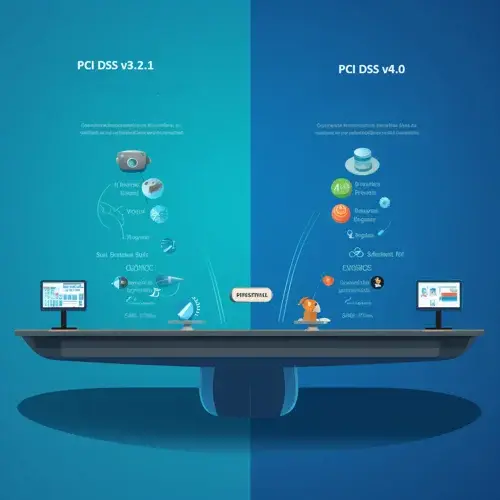 Key Steps for Transitioning
Gap Analysis: Begin by identifying the differences between your current compliance status under the previous version and the requirements of PCI-DSS 4.0.
Risk Assessment: Perform a comprehensive risk assessment of your payment environment. This will highlight areas requiring attention and help tailor your compliance approach.
Updated Training: Ensure all relevant personnel undergo training on the new standards. This ensures a company-wide understanding and adherence to the updated requirements.
Revise and Implement Policies: Update your organizational policies to align with the new requirements. Make necessary technological and procedural adjustments.
Engage with a QSA: Engage with a Qualified Security Assessor (QSA) familiar with PCI-DSS 4.0 for guidance, validation, and attestation of your compliance.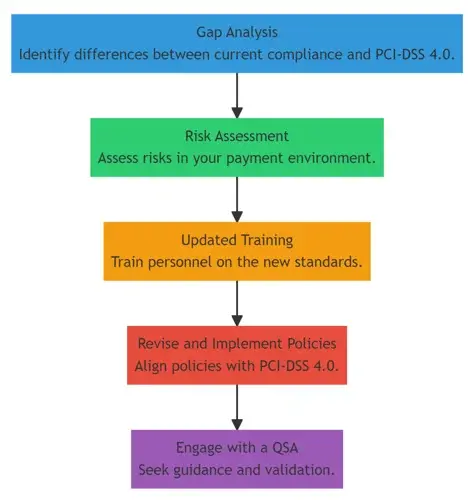 Benefits of Transitioning to PCI-DSS 4.0
Adaptability: With its emphasis on flexibility, businesses can now implement security measures best suited to their specific environment.
Robust Security: Enhanced security protocols translate to a stronger defense against breaches and cyber threats.
Future-Proofing: Adopting the latest standards ensures you're prepared for future changes in the payment ecosystem.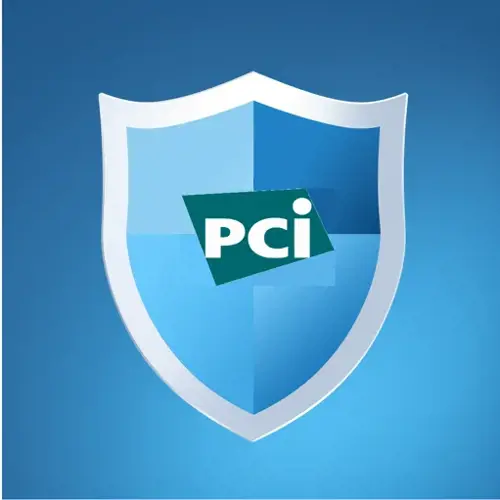 Challenges and Overcoming Them
Complex Implementation: With the focus on customization, some businesses might find implementation more complex. Engaging with PCI-DSS experts can streamline this process.
Increased Documentation: The need for thorough documentation increases with PCI-DSS 4.0. Automated documentation tools and regular audits can ensure accuracy and completeness.
Continuous Monitoring: With an emphasis on ongoing security, continuous monitoring becomes crucial. Implementing advanced monitoring tools can help businesses stay on top of their security environment.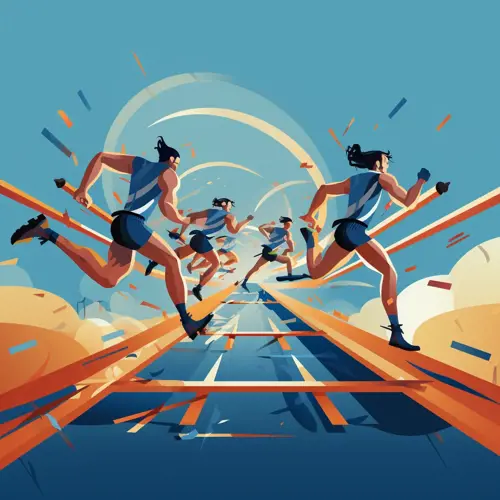 Common FAQs About Transitioning to PCI-DSS Version 4.0
Why is PCI-DSS 4.0 significant for my business?
PCI-DSS 4.0 is not merely an update; it represents a paradigm shift in how payment security standards are approached. Transitioning to this version ensures you're ahead of emerging threats and can adapt more flexibly to technological advancements in the payment ecosystem.
What is the deadline for businesses to transition to PCI-DSS 4.0?
The official transition timelines have been published by the PCI Security Standards Council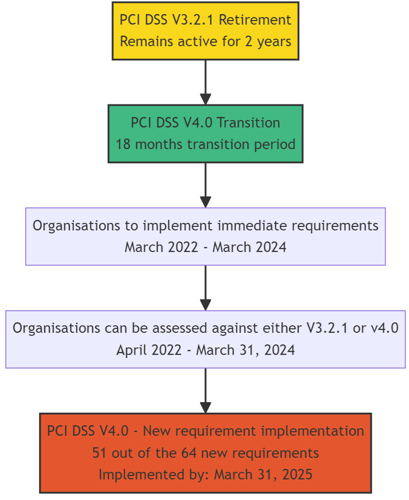 How is PCI-DSS 4.0 different from its predecessors?
The most significant change is the move from a rigid, prescriptive approach to a more flexible, outcome-based one. It offers businesses more discretion on how they achieve and demonstrate compliance, provided they meet the outlined security objectives.
Best Practices for a Seamless Transition
Involve All Stakeholders: This isn't just an IT project. Ensure that stakeholders from across the organization, including finance, operations, and executive leadership, are involved in the transition process.
Ongoing Education: As the digital landscape evolves, so do the threats. Regular training sessions ensure that your team stays updated on the latest in payment security.
Leverage Technology: Use advanced tools for continuous monitoring, automated documentation, and regular audits. This not only simplifies compliance but also fortifies your defense mechanisms.
The Benefits of Transitioning to PCI-DSS 4.0
Enhanced Flexibility: The shift from a prescriptive approach to an outcome-based one grants businesses the autonomy to tailor their security measures according to their specific operational needs, as long as they fulfill the desired security outcomes.
Future-proofing Your Business: PCI-DSS 4.0 is designed with an eye on the future, ensuring businesses can adapt to emerging technologies and challenges without constantly overhauling their security measures.
Increased Security: This version has incorporated feedback from the global industry, refining the standards to address current threats and vulnerabilities more effectively.
Reduced Compliance Fatigue: By adopting an outcome-based approach, businesses can focus on genuinely robust security practices instead of merely ticking off a compliance checklist.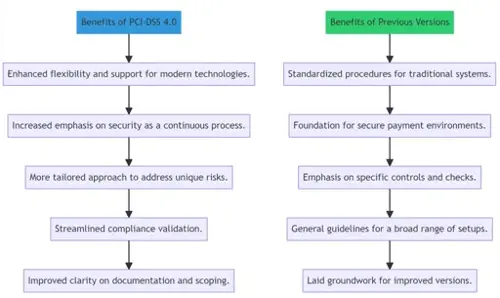 Tools and Resources to Aid Your Transition
PCI-DSS 4.0 Compliance Software: Leverage advanced software solutions that guide you through every step, ensuring no compliance aspect is overlooked.
Regular Webinars: Engage with industry experts and peers to share experiences, solutions, and best practices.
Updated Documentation and Checklists: Ensure you have the latest resources that list down every compliance detail explicitly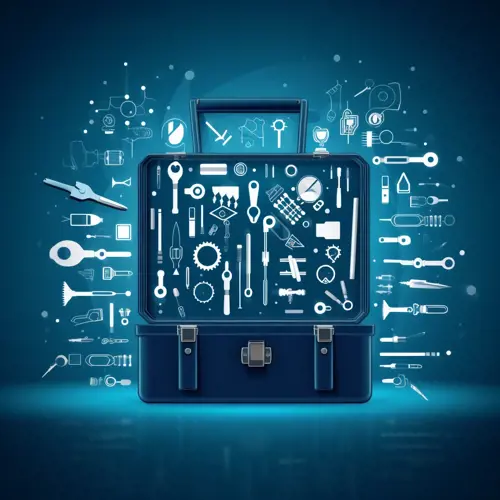 Conclusion
Transitioning to PCI-DSS 4.0 might seem like an intensive process, but with the right strategy, tools, and expertise, it can be an enriching experience that sets the foundation for a secure digital transaction environment. Embrace the change, safeguard your operations, and continue to instill trust among your customers.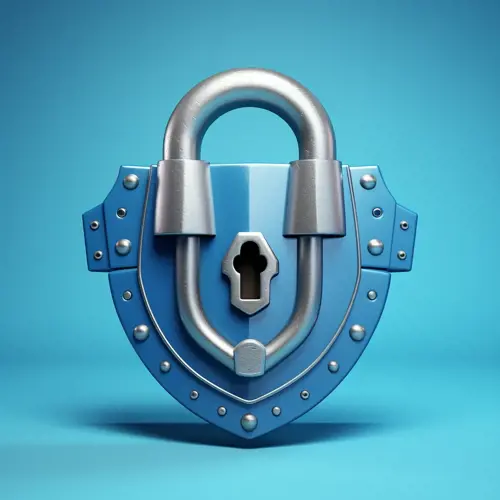 ProCheckUp Solution's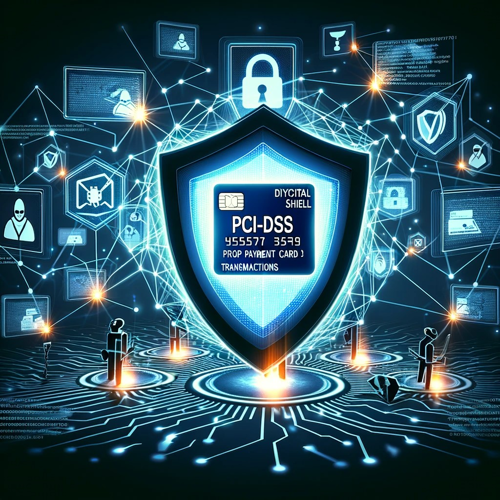 Contact Us
If you're ready to embark on your PCI-DSS 4.0 transition journey, our team of experts is here to guide you every step of the way. From initial assessments to post-transition audits, we've got you covered. Get in touch today! Contact us