Mergers and Acquisitions
In the complex realm of Mergers and Acquisitions (M&A), intertwining networks or services with an unvetted organization or partner is not just a business decision—it's a security imperative. Ensuring a seamless and secure transition is crucial. ProCheckUp's rigorous M&A security assessment demystifies the intricate cybersecurity landscape of your potential partners. By providing a transparent view into their digital vulnerabilities, we empower stakeholders—including third-party legal firms—to exercise expert due diligence, thereby mitigating cyber risks effectively.
When companies are furnished with a detailed insight into a target's security stance, they gain the advantage of preemptively addressing vulnerabilities. This not only influences informed acquisition decisions but can also offer leverage in negotiating a more favorable purchase price. Importantly, even after the M&A ink dries, it's pivotal to conduct a security assessment before integrating IT systems.
Why Choose ProCheckUp's M&A Security Assessment?
Our service is tailor-made to offer a comprehensive security blueprint of any imminent acquisition, granting businesses the essential insights needed to assess the feasibility and potential pitfalls of an M&A venture.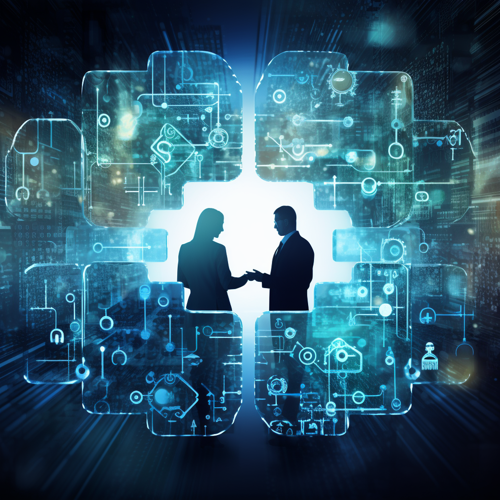 Our Holistic Approach: The Eight Phases
Compromise Assessment
Dive deep into the network environment to unearth environmental risks, current security threats, and persistent malicious activities. This phase prioritizes the swift identification and remediation of:
Data breaches and sabotage attempts
Command and control actions
Unusual user account behaviors
Malware and their persistence patterns
Potential vulnerabilities across network, host, and apps
External Vulnerability Assessment / Penetration Testing
Regularly probe the external infrastructure to guarantee that all potential threats are identified and appropriately addressed. Our experts utilize a blend of manual and advanced testing to challenge a client's online defenses.
Internal Vulnerability Assessment / Penetration Testing
Similar to its external counterpart, this assesses the organization's internal infrastructures. Extra penetration tests can be carried out to understand the impact of potentially harmful insiders.
Architecture Security Assessment
ProCheckUp specialists embark on an exhaustive examination of the organization's network security protocols. Our focus ranges from the minute intricacies of device configurations to broader network topologies and security technology policies.
PCI/NIST Cybersecurity Framework (CSF) Gap Analysis
A meticulous evaluation of organizational policies against the core NIST functions and six control objectives, ensuring the firm is aligned with industry best practices.
The core NIST functions: identify, protect, detect, respond, and recover.
And the six control objectives: build and maintain a secure network and systems, protect cardholder data, maintain a vulnerability management program, implement strong access control measures, regularly monitor and test networks and maintain an information security policy
Information reviewed will include:
Policy, standards, and procedures
Program management
Human resources and organization
Asset management
Physical and environmental considerations
Communications and operations
Access control
Information systems management
Response plans and management
Regulatory compliance
Policy Review
Here, we appraise the organization's overarching information security landscape, pinpointing any gaps that might jeopardize the firm's security posture..
Security Software Assessment
The security software assessment evaluates all the security software within a client environment to assess redundancy, waste, and poor configuration/implementation. The assessment highlights any gaps in coverage or insufficient capabilities that the organization may have in terms of coverage and implementation.
Prioritised Recommendations
ProCheckUp then provides a comprehensive report containing prioritised recommendations to mitigate the identified operational risks, including improvements to topology, protocols, policy, device configurations and network and security management tools. The report will include: -
Any compromises detected
A list of vulnerabilities and potential threats
Detailed listing of attacks that were successful during the assessment
Gap analysis and tool capabilities and functionality
Assessment findings and alignment of the security policies and procedures to the NIST CSF. Remediation strategies to achieve compliance with the NIST CSF and industry best practices
Instructions for developing a roadmap for continuous improvement and monitoring
ProCheckUp Engagement lifecycle
Procheckup utilises a standard engagement model for all engagements which is defined below: -
Offering - Activities that take place before the execution of a consultancy assignment:
Pre-sales and identification of client needs;
Creation of an agreement, typically covering: - Context of the work - Services and deliverables - Approach and work plan - Roles and responsibilities. 
Execution - Delivery of the services agreed at the offering stage to satisfy the client:
Refining the work plan;
Implementing the agreed work plan;
Assignment of staff, management and mentoring;
Approval and acceptance. 
Closure - Activities that take place at the end of a consultancy assignment:
Final client evaluation and agreement that the service has been delivered;
Conclusion of obligations;
Finalising payment;
Any subsequent improvements to the service.
Please contact us for more information on how ProCheckUp Mergers and Acquisitions services can help you.